Richard III is perhaps most well-known now due to the discovery of his remains in a car park in Leicester.
He was however an important figure in England's medieval monarchy: brother to Edward IV, he usurped his own nephew, Edward V and took the crown as his own, only to be killed two years later at the Battle of Bosworth, bringing an end to the infamous dynastic battle known as the War of the Roses.
His death marked a significant milestone for the monarchy, the last in a long line of king's fighting for the House of York.
Born in October 1452 at Fotheringhay Castle, he was the eleventh child of Richard, Duke of York, and his wife, Cecily Neville.
As a child he fell under the influence of his cousin, the Earl of Warwick who would guide and tutor him in his training as a knight. The earl would later become known as "the Kingmaker" for his involvement in the power struggles emerging out of the War of the Roses.
Meanwhile, his father and his elder brother, Edmund had been killed at the Battle of Wakefield in December 1460, leaving Richard and his other brother George to be sent away to the continent.
As the War of the Roses initiated changing fortunes for both the Houses of York and Lancaster, Richard found himself returning to his homeland after a Yorkist victory was secured at the Battle of Towton.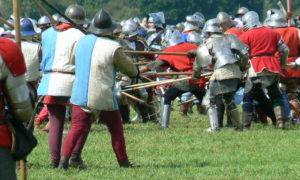 With his father killed in battle, his older brother Edward assumed the crown and Richard attended his coronation on the 28th June 1461, witnessing his brother become King Edward IV of England, whilst Richard was given the title Duke of Gloucester.
With Edward now in power, the Earl of Warwick began to strategize, arranging for his daughters advantageous marriages. In time however, the relationship between Edward IV and Warwick the Kingmaker soured, leading George, who had married Warwick's daughter Isabel, to side with his new father-in-law whilst Richard favoured his brother, the king, Edward IV.
Now the family divisions between brothers became clear: following Warwick's allegiance to Margaret of Anjou, the queen of the House of Lancaster, Richard and Edward were forced to flee to the continent in October 1470.
They were welcomed to a safe haven in Burgundy by their sister, Margaret, who was married to the Duke of Burgundy.
Only a year later, Edward would return and reclaim his crown after the victories fought at Barnet and Tewkesbury. Young Richard would prove instrumental despite being only eighteen years of age.
Whilst not as robust as his brothers, his training as a knight held him in good stead and he became a strong fighting force.
He engaged in conflict at both Barnet and Tewkesbury, witnessing the downfall of Warwick the Kingmaker and his brother, and finally enacting defeat on the Lancastrian forces and restoring Edward to the throne.
With his brother restored as King Edward IV, Richard married Anne Neville, who also happened to be the youngest daughter of the Earl of Warwick. This was to be her second marriage, her first having ended at the Battle of Barnet as her husband, Edward of Westminster, a Lancastrian, had been killed in battle.
Now married to Richard, this betrothal would secure Richard's position as one of the greatest landowners in the country, controlling large swathes of the north of England. With such substantial financial gain came great responsibility. Richard once again rose to the occasion, handling the administration of the region as an intelligent tactician.
This was enhanced by his positive and fruitful Scottish campaign in 1482, proving himself as a leader and military figure.
Whilst carrying no official title from the region, his service as "Lord of the North" proved highly successful, demonstrating his ability to handle responsibilities separate from his monarchical brother who had a growing reputation for immorality.
Edward IV at this point was suffering from an increasingly poor reputation, with many seeing his court as dissolute and corrupt. As king he had many mistresses and had even had his brother, George, Duke of Clarence charged with treason and murdered in 1478.
Richard meanwhile was keen to distance himself from his brother's unfavourable reputation whilst still remaining increasingly suspicious of Edward's wife, Elizabeth Woodville and her extended relations.
Richard believed that Elizabeth held great sway over the king's decisions, even suspecting her influence in the murder of his brother, George, Duke of Clarence.
In 1483, such a context of mistrust and suspicion reared its head when Edward IV unexpectedly died, leaving two sons and five daughters. His eldest son was the heir to the throne and was destined to become Edward V.
Edward had already made arrangements, entrusting his son's welfare with Richard who was appointed as "Lord Protector". This would mark the beginning of a power struggle between Richard and the Woodvilles over Edward V and his ascendancy to the throne.
The Woodvilles, including Earl Rivers, young Edward V's uncle, had a strong influence on his upbringing and were keen to overturn Richard's role as Protector and instead set up a Regency Council making Edward V king immediately, whilst the power remained with them.
For Richard, such influence from Elizabeth Woodville and her extended family was unacceptable and thus he hatched a plan that would secure the fate of the Yorkist throne with himself, whilst young Edward V who was only twelve years old, would become collateral damage.
In the coming weeks, in the lead up to Edward V's coronation, Richard intercepted the royal party, forcing them to disperse and issuing the arrest of Earl Rivers and Edward's eldest half-brother. Both ended up being executed.
With the help of the intervention of Richard, parliament announced that Edward and his younger siblings were illegitimate, leaving Richard as the new rightful heir to the throne.
Edward V, despite all protestations, was accompanied by Richard personally to the Tower of London, only to be later joined by his younger brother. The two boys, who became known as the "Princes in the Tower" were never seen again, presumed murdered. Richard had successfully usurped his nephew to become King of England in 1483.
Richard was crowned, alongside his wife Anne, on 6th July 1483, marking the beginning of a turbulent two year reign.
After only a year on the throne, his only son Edward died in July 1483, leaving Richard with no natural heirs and thus, opening up speculation and attempts to claim the throne.
Meanwhile, embroiled in the grief for her son, Queen Anne also passed away at the Palace of Westminster at only twenty-eight years of age.
Richard, having lost his son and heir, chose to nominate John de la Pole, Earl of Lincoln as his successor. Such a nomination led the Lancastrian forces to choose their own representative for the succession: Henry Tudor.
In his two years as reigning monarch, Richard would have to face threats and challenges to his position as king, with Henry Tudor posing the most effective opposition, keen to bring an end to Richard's reign and the House of York.
Another leading figure in revolt also included one of his former allies, Henry Stafford, 2nd Duke of Buckingham.
Only two months after his coronation, Richard faced a revolt by the Duke of Buckingham which, fortunately for the king, was easily suppressed.
Two years later however, Henry Tudor looked to pose a more serious threat, when he and his uncle Jasper Tudor arrived in south Wales with a large force made up of French troops.
This newly gathered army marched through the area, increasing momentum and gaining new recruits as they went.
Finally, the confrontation with Richard was set to play out on Bosworth Field in August 1485. This epic battle would finally bring an end to the ongoing dynastic battle which had defined this period of English history.
Richard was prepared to fight and hastily brought together a large army which intercepted Henry Tudor's army near Market Bosworth.
Another important figure in this battle was Henry's stepfather, Lord Thomas Stanley who held the crucial power of deciding which side he would support. In the end he defected his support from Richard and changed his allegiance to Henry Tudor, taking with him around 7,000 fighters.
This was a critical moment for Richard as the battle would define his future as king.
Richard's army still outnumbered Henry's men and he chose to lead his forces under the command of the Duke of Norfolk and the Earl of Northumberland whilst Henry Tudor chose the experienced Earl of Oxford who subsequently forced Norfolk's men back across the battlefield.
Northumberland would prove ineffectual as well, and sensing that action needed to be taken Richard charged with his men across the battlefield with the aim of killing his contender and declaring victory. Such a plan however sadly did not materialise for Richard who found himself surrounded by Lord Stanley and his men, resulting in his death on the battlefield.
Richard's death marked the end of the House of York. Significantly he was also the last English king to die in battle.
Meanwhile, a new king and a new dynasty was going to make a name for itself: the Tudors.
Jessica Brain is a freelance writer specialising in history. Based in Kent and a lover of all things historical.
Published: February 12, 2021.