Napoleon's Exile on St Helena
by Lara Jacobs
Imagine Napoleon's dismay when he realised he was not being banished to America as he anticipated, but to the remote island of St Helena in the mid-Atlantic instead. Located 1,200 miles from the nearest landmass off the west coast of Africa, St Helena was the ideal choice for Napeoleon's exile… after all, the last thing the British wanted was a repeat of Elba!
Napoleon arrived in St Helena on 15th October 1815, after ten weeks at sea on board the HMS Northumberland.
William Balcombe, employee of the East India Company and one-time family friend of the French emperor, put Napoleon up at Briars Pavilion when he first arrived on the island. However a few months later in December 1815, the emperor was moved to nearby Longwood House, a property said to have been particularly cold, uninviting and infested with rats.
Above: Longwood House today
During Napoleon's time on the island, Sir Hudson Lowe was appointed Governor of St Helena. Lowe's main duty was to ensure that he didn't escape but also to provide supplies for Napoleon and his entourage. While they only met six times, their relationship is well documented as being tense and acrimonious. Their main point of contention was that Lowe refused to address Napoleon as Emperor of the French. However five years later Napoleon finally won Lowe over, and persuaded him to build a new Longwood House. However he died just before it was completed, after six years in exile on the island. After World War II the new Longwood House was demolished to make room for a dairy.
Today Longwood House is considered to be the most poignant and atmospheric of all the Napoleonic Museums, as it is preserved with its original furniture from 1821, complemented by over 900 artifacts. Thanks to the island's Honorary French Consul, Michel Dancoisne-Martineau, with the support of the Fondation Napoleon and over 2000 donators, visitors to Longwood House can now also view an exact replica of the room where Napoleon died on 5th May 1821.
Above: Napoleon's bed at Longwood House
The rebuild of the General's Quarters at Longwood House was overseen by Michel and completed in June 2014. The exterior of the General's Quarters is based on Doctor Ibbetson's 1821 watercolour painting and appears as seen at the time of Napoleon's death. By contrast the interior is modern and serves as a multi functional event space. A fireplace built in Regency style is a key feature within the room. The new General's Quarters also includes two accommodation apartments. Between 1985 and 2010, Michel was the only Frenchman on the island. However there are now two more Frenchmen – one currently working on the airport project and the other teaching French!
Napoleon was initially buried at the SaneValley, his second choice of burial site, until the French were given permission to have his corpse returned to France, nineteen years after his death. Napoleon's remains are now buried in Les Invalides in Paris, however visitors to St Helena can visit his empty tomb, which is enclosed with a fence and surrounded by an abundance of flowers and pines.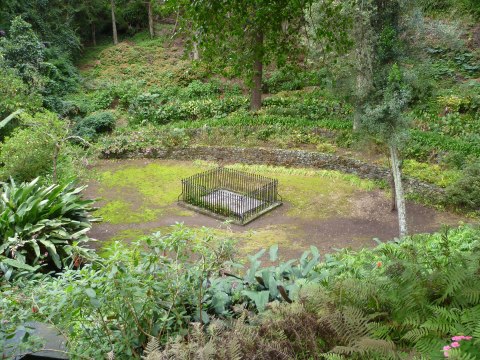 Above: Napoleon's original tomb in St Helena
The circumstances surrounding Napoleon's death remain controversial. There is still speculation as to whether he was poisoned or simply died of boredom. There is also evidence from an autopsy to suggest that he had ulcers, which affected his liver and intestines.
Napoleon's presence can still be felt today across the island. The Governor of St Helena's official residence at Plantation House still retains one of Napoleon's chandeliers, whilst one of the island's small hotels, Farm Lodge, claims to have a chaise longue from Longwood House.
Today, all of St Helena's Napoleonic attractions, including Longwood House, Briars Pavilion and Napoleon's Tomb, are owned by the French Government.
Travellers looking to follow in Napoleon's footsteps can board the Royal Mail ship St Helena from Cape Town (10 days at sea and four nights on St Helena). Tours of Napoleon's residence, Longwood House and Briar's Pavillion can be arranged through the St Helena Tourism Office once on island. St Helena's first ever airport was completed in 2016.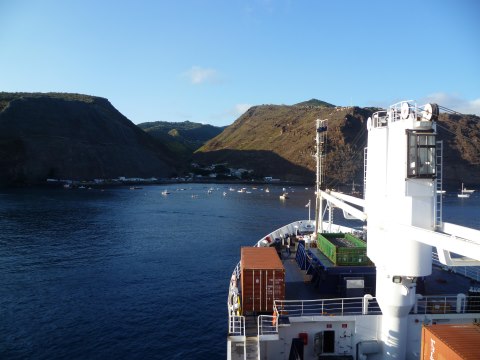 Above: The Royal Mail ship approaching St Helena.
You can find out more about St Helena and Napoleon's Exile: