Sir Thomas More
by Jessica Brain
"I die the king's faithful servant, but God's first".
No sentence better summarises a man who dedicated himself to the service of the Crown and was destined to be venerated as a saint by the Catholic Church.
Sir Thomas More lived in Tudor England. He held a variety of roles including lawyer, Chancellor, Member of Parliament and writer. His influence on many of these fields was quite remarkable, particularly his famous text, "Utopia".
Sadly for More, his life ended in a dramatic and characteristically Tudor fashion when he refused to acknowledge King Henry VIII's divorce as well as the drastic break of the English church from Rome.
A devout defender of the Catholic Church, More felt he could no longer serve as Chancellor to Henry VIII and resigned his position. Unfortunately, this was the beginning of the end for More, who continued to argue against Protestantism and thus was tried and executed in July 1535.
A Catholic figure in England, a country which was embarking on a great change towards Protestantism, More became a Reformation martyr, one of the many casualties, on both sides, who fought and argued for his faith.
In 1935, More's life was formally recognised by Pope Pius XI when he chose to canonise More. Such is his significance that in the 21st century, Pope John Paul II made him the patron saint of Statesmen and Politicians.
His story begins in 1478 in London, born to Agnes Graunger and her husband, Sir John More, a man who had an esteemed career in law. One of six children, his father's illustrious career would benefit young Thomas who received a great education at one of the best schools in the area.
By 1490 he was serving the Archbishop of Canterbury, John Morton ( also Lord Chancellor of England) as his household page. This experience was to serve young More greatly, as Morton was a follower of an evolving philosophy on life and education, the roots of which could be described as humanism. Morton soon recognised his talents and nominated More for a place at Oxford University.
After attending university for two years and being exposed to a typical classical education, he left Oxford in order to follow in his father's footsteps and pursue a career in law. He thus became a student at Lincoln's Inn and was called to the Bar in 1502.
Whilst he pursued his vocation as a lawyer, the draw he felt towards his faith and spiritual life was strong. It had been said by one of his close friends Desiderius Erasmus that he pondered the possibility of pursuing a spiritual life full-time and abandoning his legal career. Whilst he did not go down this particular path, the piety he felt drawn to would guide his career and serve as a reason for his demise.
In 1505 he married Jane Colt and went on to have four children with her before her sad, early death. More held a particularly unusual attitude towards family life, uncharacteristic for the time: for example, he aimed to educate his wife by tutoring her and later insisted on his daughters receiving a classical education, the same has his son would receive.
This approach to his children's upbringing although unorthodox began to win a great deal of admiration from fellow noble families and even Erasmus himself, who marvelled at More's daughter's eloquence and academic prowess.
The family of Sir Thomas More
More had a large family, remarrying quickly after his wife's death and taking on another child to raise as well as acting as a guardian for a further two young girls. He proved himself to be a caring and devoted father to all of the children, encouraging them and communicating with them whilst he was away.
Back in the world of business, he chose to abandon his career in law in favour of a role as a politician, achieving his first success as a Member of Parliament for Great Yarmouth in 1504 and later representing constituencies in London.
During his political career he served in a variety of roles including as an Undersheriff of London, a position which earned him great respect. In time he became a Privy Counsellor and undertook further work of a more diplomatic nature on the continent, earning him a knighthood and new position as Under-Treasurer of the Exchequer.
As he rose through the ranks, he also came to be a lot closer to King Henry VIII, serving as a personal advisor. In this highly prominent position he would welcome diplomats and liaise between Henry VIII and other figures, including Lord Chancellor Wolsey.
During this period of achievement, More also found the time to produce his most famous text, "Utopia" which was published in 1516. This was a book written from the More's perspective as a type of satire, telling a story of a make believe society on an island. Composed in Latin, the narrative describes the cultural customs of the society, depicting order, fairness and communal ownership of the island. Some of these themes can be viewed as having roots in monastic life, whilst more generally the depiction of a safe, equal functioning society, would appeal centuries later to the likes of Karl Marx and Friedrich Engels.
Title woodcut for 'Utopia' by Thomas More.
The work of fiction, in its own time, gave rise to an entire genre of its own, a dystopian fiction whereby ideal societies were the focus of the narrative, including works such as "New Atlantis" by Francis Bacon and "Candide" by Voltaire.
Meanwhile, whilst his literary prowess became evident, More achieved great success when he succeeded Wolsey as Lord Chancellor in 1529. Marking a pinnacle in his career, he was hard working and diligent in his office. However this was about to be marred as his chancellorship coincided with an enormous moment in the history of Christianity: the Protestant Reformation.
Whilst serving in his role he made clear his position, stating his support for the Catholic Church and assisting Wolsey in hindering the import of Lutheran texts into England. He also took great umbrage at the Tyndale Bible, considering it heretic.
Moreover, whilst serving as Lord Chancellor, there are references to his use of force and violence in dealing with those he labelled as heretic, however there is still much debate about whether these accusations are true. Under his control, six individuals were burned at the stake, however in this period, this was a common punishment for heresy. In fact, any rumours about excessive violence were refuted by the man himself in his "Apology" of 1533.
His views however were increasingly in opposition with parliament and most importantly the king. In 1529 it was made a crime to support the claim that there was any other authority beyond the legal supremacy of the king.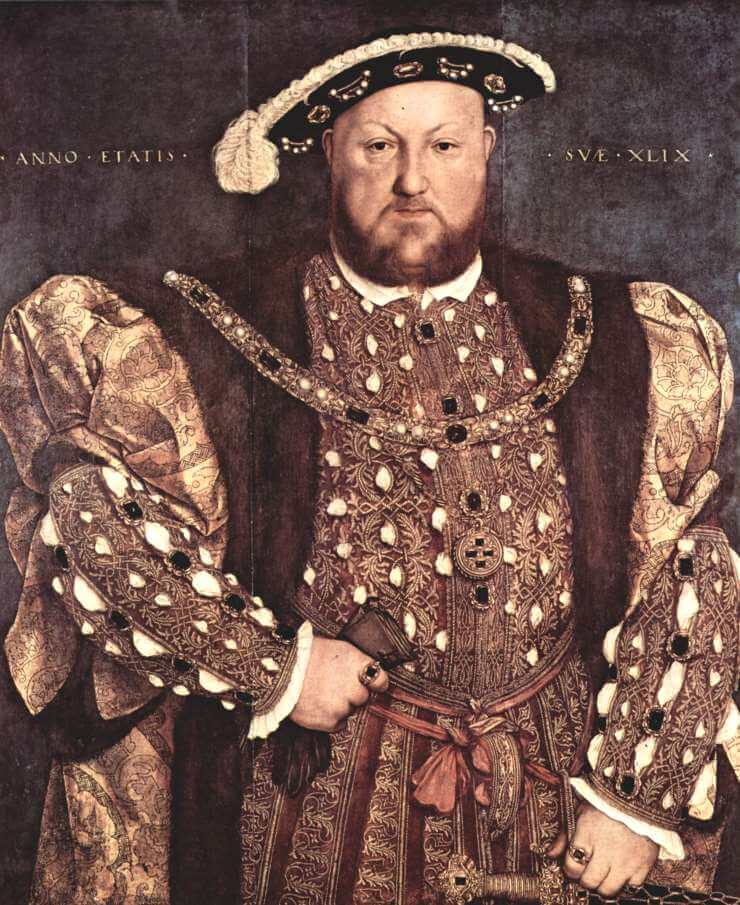 King Henry VIII
By 1530, More's conflict with Henry VIII came to a head. He refused to sign a letter asking for the Pope to annul the marriage of Henry and Catherine of Aragon, whilst also engaging in fierce debate with Henry over the imposition of heresy laws.
In the following year a royal decree was announced, demanding that the clergy would recognise Henry VIII as the Supreme Head of the Church of England. More defiantly refused to sign the oath, however he did not speak out publicly in opposition to his monarch.
Eventually, in May 1532 he resigned as Chancellor, sensing he could no longer continue in his role.
A year later, he wrote to Henry expressing his happiness that he had found a wife in Anne Boleyn, however he refused to attend the coronation which was ultimately seen as a public snub and necessitated a response.
In the coming months, More found himself on the receiving end of various allegations, some of which were levelled at him by Thomas Cromwell. Various attempts to see him charged failed to be followed through, until on the 13th April 1534 More was asked to swear his allegiance to the Act of Succession.
More's refusal was the last straw. Four days later he was taken to the Tower of London and charged with high treason.
'Thomas More bidding his daughter Margaret Roper farewell', by Edward Matthew Ward
On 1st July 1535 his trial was held. He was brought before a panel of judges, which also happened to include a large part of Anne Boleyn's family, including her uncle, brother and her father. In just fifteen minutes, More was declared guilty.
The case was closed, More was sentenced to be hanged, drawn and quartered, an expected punishment given the circumstances, however showing some leniency, Henry VIII ordered for him to be decapitated instead.
On 6th July 1535, Thomas More's illustrious career, budding writing talent, political voracity and religious piety came to an abrupt end. He was executed, a man who had served King Henry VIII devoutly and yet had stayed true to his beliefs and convictions until the end.
Jessica Brain is a freelance writer specialising in history. Based in Kent and a lover of all things historical.