London's Only Lighthouse
by Ben Johnson
Located deep within the Docklands, where the River Lee meets the River Thames, lies London's only lighthouse. Built in 1864-66, the purpose of the lighthouse was originally as a testing venue for new types of lamps and lighthouse technology. At one time even Michael Faraday, one of the most influential scientists of all time, carried out experiments in the lighthouse. In fact, Faraday's only invention ever to be patented – a new type of chimney designed to stop lamp gases combusting – was designed in this very place.
The lighthouse is actually located in an area called Trinity Buoy Wharf. For nearly 200 years the Corporation of Trinity House of Deptford Strong (as it's officially known!) used this land as a lightboat dock, buoy storage facility and maintenance depot, as well as for testing new lighthouse technologies. By 1910 the wharf was so busy maintaining buoys and lightships from Suffolk to Kent that it was employing around 150 people, from platers to riveters, carpenters to tinsmiths.
In 1988 however the wharf was closed, and the future of the area looked uncertain. It was only in 1996 that a private company took control of the site on a long lease, and started to develop the area as a "centre for the arts and cultural activities".
Today, Trinity Buoy Wharf has to be one of the most bizarre places in London! From Container City, an office/studio complex made up of recycled shipping containers, to an old lightship refitted as a photography studio. And then you have our personal favourite… Fat Boys Diner.
Fat Boys Diner is a traditional 1940's American diner, complete with chrome exterior, Formica, twirly bar stools and neon sign trim. The food isn't exactly Michelin starred, but it is good, hearty American staple. It even features such delicacies as the chilli hotdog, pastrami on rye sandwich and their Shake One in the Hay strawberry milkshake.
However, what really makes Fat Boys Diner special is its location. There's something quite unique about eating in a 1940's American Diner whilst being surrounded by the old London docklands. Perhaps it's down to this rather strange juxtaposition that Fat Boys Diner was featured in the 1998 movie Sliding Doors.
And then there's the lighthouse…Not content with being relegated to the history books, London's only lighthouse is now home to Longplayer, a continuous 1,000 year long piece of music. Initially switched on for the millennium celebrations, the music will run uninterrupted until midnight on the 31st December 2999. There's a listening room in the lighthouse itself, or you can listen to the live stream here.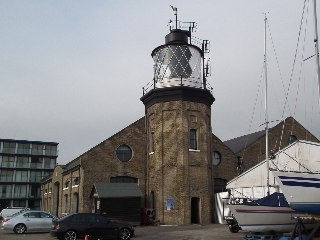 To get to Trinity Buoy Wharf, there are a few options. It's a 10 minute walk from East India Dock DLR station, or a 15 minute walk from Canning Town station. Alternatively, should you be coming from the South of the river there is a regular shuttle boat service that takes you straight to the wharf from North Greenwich pier.