Mary Ann Evans, writing under the pseudonym of George Eliot, was a highly acclaimed Victorian novelist. Fans of her work included Queen Victoria herself and even today her novels entertain and delight readers. But it wasn't just her written works that brought her notoriety; she also courted controversy in her personal life.
Mary Ann Evans was born on the 22nd November 1819 in Nuneaton, the second child of Robert and Christiana Evans. She was born on the Arbury Hall estate, where her father was manager.
Her mother died when she was sixteen and when she was twenty-one they moved to Coventry where she made friends with the Bray family, an influential family who introduced her to a new circle of friends and a different way of thinking. She questioned her faith which caused problems with her father. However she kept house and looked after him until 1849 when he died. She was thirty years old.
After a stay abroad, she moved to London and became Assistant Editor of a left wing journal called 'The Westminster Review.' In London she met George Henry Lewes and in 1854 they moved in together. The relationship was complicated and quite scandalous in Victorian times, as George was already married. His wife, Agnes Jervis had three children with George Lewes and four with another man. However, George had allowed himself to be named as father on the birth certificates of the illegitimate children. This meant he couldn't divorce his wife because he was considered compliant in the adultery and so wasn't free to marry.
Mary Ann Evans began to call herself Mary Ann Evans Lewes and she referred to George Lewes as her husband. They considered themselves to be married even though the law didn't recognise it. They would remain together until his death twenty-four years later.
The fact that they publicly acknowledged their relationship rather than hiding it brought them disapproval from the rest of society. Her brother Isaac ceased contact with her.
Many people over time have made comment about George Eliot's appearance. She was not what society considered beautiful. However, Henry James said '…Now in this vast ugliness resides a most powerful beauty which, in a very few minutes, steals forth and charms the mind, so that you end, as I ended, in falling in love with her. Yes, behold me literally in love with this great horse-faced bluestocking.' Rather a back-handed compliment.
For her writing she adopted the nom-de-plume George Eliot. In one of her essays she criticised female writers of the time for trivial plots. She wanted to ensure her work was taken seriously, so she created 'George Eliot' and the name would soon become famous.
Her first complete novel was 'Adam Bede', published in 1859. It was a great success and there was much speculation over the identity of the new author. In the end Mary Ann stepped forward and admitted to being George Eliot.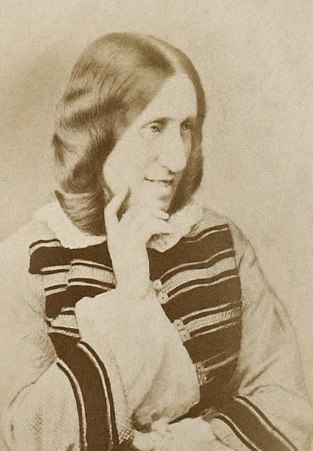 She wrote seven novels altogether, as well as various other works. After 'Adam Bede' she wrote 'The Mill on the Floss', 'Silas Marner', 'Romola', 'Felix Holt; the Radical' and 'Middlemarch'. Her last novel was 'Daniel Deronda' and, after it was published in 1876, she and George moved to Witley in Surrey. Lewes was not well and he died on 30th November 1878.
She found comfort with John Walter Cross who had also recently suffered a bereavement (his mother had died) She married him on 16th May 1880. This again opened her to gossip as he was twenty years her junior. This legal marriage helped to reconcile her with her brother.
An incident occurred on their honeymoon in Venice where John Cross jumped from a hotel balcony into the Grand Canal. Fortunately he survived and they returned to England. They moved to Chelsea but George Eliot fell ill with a throat infection. She was already suffering with kidney disease and she died on 22nd December 1880. She was sixty-one years old. She is buried at Highgate Cemetery in London, next to George Lewes.
George Eliot was one of the leading writers of the Victorian era. She died one hundred and thirty six years ago and yet is still thought of as one of the greatest writers of all time. She lives on through her written works. To quote George Eliot herself: 'Our dead are never dead to us, until we have forgotten them.'
Helen is a mother to two boys – one an active four year old and one, a sleepy newborn baby. As well as history she has an interest in health and fitness and writes a blog about this topic. She has been published previously at Historic UK and you can find other writing in various places such as poetry at Fresh!Online Literary Magazine and anthology.
Published: 6th April 2015